PERLA RICHA

Perla has over 20 years of communications experience in the MENA region and globally, having worked with some of the world's largest multinationals, until she decided it's time to set up her own shop.
She started her career working as a communication consultant at Leo Burnett, before joining the BBDO network as head of Impact Porter Novelli for the Levant region (Lebanon, Syria, Palestine and Egypt), responsible for business development and specialized consultancy in terms of crisis management, government relations, content development, reputation management and internal communications.
She then became the Director of Integrated Services at BBDO Kuwait, in charge of the overall management of the Client Servicing Department, and also for the leadership, direction and coordination of the agency's PR & Events Departments: mentoring, strategy development and implementation.
Perla has a Masters degree in Clinical Psychology, to which she added a Crisis Management Degree (Ecole Superieure des Affaires – Lebanon), before starting to deepen her knowledge in Social Media and
Digital Marketing with: Reputation management in a digital world (Curtin University).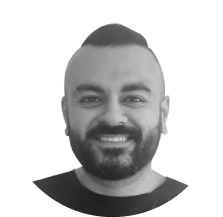 WASSIM BADR
Having grown through the ranks of two of the largest communications agencies in the world, Wassim has over 13 years of experience that he then chose to invest in starting up Alter Talks.
With operations spanning the CEEMEA region and the world, his career in communications started in 2009 with Leo Burnett in Beirut where he spent over 5 years working on major multinational and local brands across the Middle East and Central & Eastern Europe region, such as Procter & Gamble Haircare and Beauty in CEEMEA, Mercedes-Benz, Exotica, Patchi, Azadea, Luxury Clothing Co. and more.
He then joined the BBDO group as Senior Account Manager with Impact & Echo BBDO Kuwait, handling leading local brands such as General Motors (Chevrolet and Cadillac), Gulf Bank, Safat Home and Alghanim Engineering, in addition to the Kuwait National Cultural District and its various entities,
working with the Amiri Diwan.

Wassim has a B.S. in Computer Science, a B.A. in English Literature, and a minor in Marketing. He is also
certified in digital marketing by the Digital Marketing Institute and by Avado/Dot Native.